My Books
REVIEWS OF FIRST EDITION
"The first real biography and appreciation of Scott Joplin. . . . Supplants [They All Played Ragtime] as the most accurate and informative Joplin biography."
Michael Walsh
Time, September 19, 1994.

"What a scrupulous historian and musicologist Mr. Berlin is, rigorously sorting through the facts of Joplin's life and era. . . . Mr. Berlin has produced the most thorough and useful biography yet of Scott Joplin."
Margo Jefferson
New York Times, July 20, 1994

"A number of books have been written about Joplin and ragtime, but none better than Berlin's impressive effort. He has searched more deeply and learned more about Joplin than any of his predecessors. . . . Not only was no stone left unturned, but very few pebbles are left for other scholars to pick up."
Ted Gioia
San Francisco Chronicle, September 18, 1994

"In his exhaustively researched new book, Edward Berlin presents an entirely new view of Joplin based on previously undisclosed information. For example, earlier biographies refer briefly to Joplin's lost opera, A Guest of Honor, but Berlin traces the opera's route through the Midwest, explains why the tour failed, and reveals that the subject of the opera was Booker T. Washington's visit to Theodore Roosevelt's White House. . . . The life and times and sounds of Joplin come alive before us, and a unique legacy of our musical history is lovingly, sympathetically and authoritatively revealed.
Tony Caramia
American Music Teacher (June/July 1995)

"Edward A. Berlin, ragtime scholar nonpareil, has performed a miraculous literary feat. . . . Berlin reveals not only what he learned about Joplin and his world but how he managed to do so, sharing leads, hunches, suspicions, discoveries. For students, in fact, the book could serve as a methodological model for exploring vernacular music, especially earlier African-American traditions. . . . This is musicology with heart, a testament not just to the genius of Joplin and the spirit of ragtime but to that elusive, ineluctable force that drove Berlin to recover a major part of America's musical past."
Mark Tucker
I.S.A.M. Newsletter (Fall 1994)

"He carefully exposes all the evidence for us before presenting his own conclusion. Far from slowing the book down, such passages lend it some of the fascination of a Sherlock Holmes mystery. . . . King of Ragtime is not only one of the very best books on popular music I have read, but also one of the better recent musical biographies altogether."
Joseph Smith
Piano Today (October 1995)

"Excellent new biography. . . . A masterly job of digging up elusive primary sources."
Terry Teachout
Wall Street Journal, August 12, 1994

"The most complete picture we've seen so far of Joplin's life. . . . It is truly amazing how much information was awaiting discovery. . . . I continually marveled at Berlin's thoroughness, accuracy and perception."
Tex Wyndham
West Coast Rag¸ October 1994

"The most comprehensive and accurate published source of information about Joplin and a valuable complement to Berlin's earlier book,Ragtime: A Musical and Cultural History. . . . To a considerable degree King of Ragtime supersedes its predecessors. . . . Any new book about Scott Joplin or ragtime music will have to recognize Edward Berlin's indefatigable research and his objective evaluation of evidence."
Brian J. Dykstra
American Music (Winter 1995)
Click here for a description and brief discussion of the 2nd edition of
King of Ragtime.
"This cogent, closely reasoned book is a major contribution to the study and understanding of ragtime and popular music. It would not be an exaggeration to claim that it sets new standards for ragtime scholarship, since, unlike most previous efforts in this field, it is based on meticulous (and meticulously documented) research, interpreted with a keep grasp of the music itself and its historical, cultural, social, and esthetic contexts."
Dan Morgenstern
Annual Review of Jazz Studies (1982)

"Two different kinds of readers will gravitate towards Berlin's study of ragtime: the scholar will appreciate the refinement of the documentation and the articulate presentation of terminology, and the ragtime player, be he professional or simple hobbyist, will play every rag afterwards with a new sense of the rich vocabulary in this music. Berlin has created a model for further studies in the generic idioms that have appeared in the United States during the past century."
Thomas Warburton
Notes (December 1981)

"There is a certain richness, as well as confusion, in the jumble that went under the name of "ragtime" when the name was new and imperfectly understood. Berlin . . . manages to preserve the richness while sorting out the confusion."
Joseph McClellan
Washington Post (September 12, 1980)

"Covers highly controversial ground with an impressive array of primary documentation that does credit to his dedicated research and persistent probing of the past."
Gilbert Chase
American Music (Summer 1983)

"The most original piece of research published on ragtime since They All Played Ragtime (1950). Indeed, in the area of musical analysis, Berlin's work surpasses that almost legendary early volume."
W. K. McNeil
JEMF Quarterly (Fall 1980)

"The most complete available discussion of ragtime music."
Samuel A. Floyd, Jr & Marsha J. Reisser
Black Music in the United States (1983)

Click to continue reading about Ragtime.
"I would urge anyone with an interest in ragtime to try and get hold of a copy of this, for it's an unusually-slanted approach which, hopefully, will stimulate others into similar efforts."
Laurie Wright
Storyville,
(December 1987)
"Berlin gives impetus to those who wish to attempt further study about a variety of ragtime subject matter. Intriguing puzzlements and questions are brought up in the text which inspire the reader to reflect. . . . This book will be enjoyed by all fans of ragtime, from novice to advanced."
Lois A. Cordrey
Remember That Song
"Ed Berlin has written a fascinating monograph on subjects of ragtime that should be researched more fully. One-fourth of this book is taken up by these questions/subjects and their possible effect on the ragtime world. As far a this review is concerned, Mr. Berlin is THE prime candidate for doing the very research he so ably points out should be done."
Dave Wright
Pleasant Moments –
Cascades Ragtime Society
(November 1987)
Reflections and Research won an ASCAP-Deems Taylor Award in 1989.
Click to continue reading about Reflections and Research.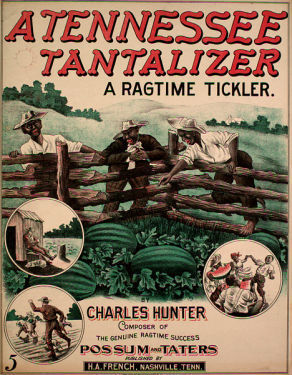 Copyright (c) 2002-2016 Edward A. Berlin