Scott Joplin: Brief Biographical Sketch
How extraordinary that music of such outgoing spirit, exuberance, and gaiety, music that demands response from the feet while it moves the heart, music that draws smiles from all within hearing, should be composed by a man often described as withdrawn, sad, and perhaps depressed. Many noted that he was a person of few words. Quiet as he may have been, his music articulated his thoughts most eloquently.

Joplin's published music—more than fifty piano pieces (mostly rags, but also waltzes and marches), a sprinkling of songs, and an opera—reveals his essence. Perhaps that's all we need to know. But anecdotes and autobiographical suggestions in isolated compositions spur our interest. Filling in the details, though, is a daunting task as his life was so poorly documented. He left no journal of his thoughts and activities, no personal letters are known to exist, and his associates' reminiscences have proven to be notoriously unreliable. We note his accomplishments and his incompletely fulfilled promise, see a few highlights, come upon an occasional detail. But his full story of remains frustratingly elusive. Compounding the difficulties of sparse factual data are years of accrued misinformation. One tenacious myth tells us that Joplin was born in Texarkana, Texas, on November 24, 1868. The location is easily dispensed with: Texarkana was not established until 1873, five or six years after his birth. Testimony of a family friend has Scott born in Marshall, Texas, some 70 miles south of what was to become Texarkana; in 1870, according to the U.S. Census, the family lived on a farm in Linden, Texas, almost 40 miles away. That same census, of 1870, certifies that on July 18, 1870, the young Scott was already two years old, thereby ruling out a birth date of November 24, 1868. The 1880 census and his death certificate support that conclusion. Though we cannot cite an exact date for his birth, documents place the event between July 19, 1867 and mid-January 1868; he was probably born in the year 1867.

This detail illustrates the problems in determining the truth of Joplin's life. We must sort through the anecdotes told by acquaintances and test them against evidence of other testimony, of newspaper and magazine reports, of public documents, and against common sense. This process results in discarding many unsupported stories, adjusting others, and discovering new, unsuspected facts. To this evidence we add speculations that, while lacking documented, derive from obtained facts and seem reasonable.

Scott Joplin's beginnings could not have been more humble. He was the second of six children born to African American parents who, in the post-Civil War period, eked out a living in northeast Texas. He spent most of his childhood in the newly-established town of Texarkana, which straddles the states of Texas and Arkansas. His musical talents seem to have been recognized early and he received free instruction from Julius Weiss, a German immigrant and local music teacher. Weiss, according to other students, was an adherent to the European musical tradition and had a special love for opera. Joplin, according to his widow Lottie, corresponded with Weiss his entire life, giving rise to the speculation of Weiss' importance in the formation of Joplin's musical aesthetic.

Joplin's earliest newspaper notice, in 1891, places him in a local minstrel company in Texarkana. In 1893–94 he toured the Midwest and Northeast—from Omaha to Boston—with his Texas Medley Quartette, a vocal group. Though he included Chicago in this tour, during the Chicago World's Fair, no evidence has been found to sustain the claim that he had led a band there, leaving the anecdote in doubt. He went to Sedalia, Missouri, in late 1894, where he lived off and on for the next decade.

In Sedalia, he performed cornet with the local Queen City Cornet Band, an ensemble of about thirteen black musicians; formed his own six-piece dance band; played piano at various venues in town; and formed a new version of the Texas Medley Quartette, now a double-quartet composed of eight singers. His first two music publications— two songs in the sentimental style of the 1890s—were issued in Syracuse, NY, in 1895. These were followed, in 1896, with three piano pieces—two marches and a waltz—published in Texas.

Though already a working musician, Joplin sought to enhance his understanding of music with courses at Sedalia's George R. Smith College, an institution designed for African Americans. His performances in town included dances at black social clubs—the Black 400 and the Maple Leaf Club—and the Sedalia Capital newspaper referred to him as "one of the best pianists in the country".

His first rag publication, Original Rags, was issued in March 1899, and was followed in September 1899 with Maple Leaf Rag. According to testimony, Maple Leaf Rag was actually composed in 1898, or even 1897. This spectacular rag drastically affected Joplin's life and altered the direction of ragtime history; it brought a new level of sophistication to ragtime and became the most widely admired and imitated piano rag of the era.

But Joplin aspired to more than ragtime composition, no matter how outstanding; just weeks after publishing Maple Leaf, he presented his publisher John Stark with a ballet of African American dances. The ballet was included in a show put on by his friends and colleagues in Sedalia at Wood's Opera House (a theater that rarely, if ever, staged real opera) on November 24, 1899, and later in neighboring towns. The following summer, Joplin presented a new version—"The Ragtime Song and Dance Quadrille"—which garnered immense praise from the local press, one newspaper calling Joplin a genius, unheard-of praise for an African American at that time and place. Because of its length, Stark did not publish the work until 1902, and then in a very much abbreviated version, titling it The Ragtime Dance. This ballet was just the first indication of Joplin's efforts to bring ragtime, commonly regarded as a music of low artistic value, to the level of a classical music. His publisher John Stark echoed this aim and sought to issue rags only of excellence, terming his firm "The House of Classic Rags".

Though Joplin was an admired figure in Sedalia and had several students—among them, the ragtime composers Arthur Marshall and Scott Hayden—he decided to depart for the larger city of St. Louis. He left in early 1901 with Belle Jones, with whom he had established a marital relationship.

Joplin had lived in St. Louis for brief periods in the past and had many friends there. He was closely associated with Tom Turpin, the first black composer to publish a rag (Harlem Rag, in 1897) and the owner of the Rosebud Bar, St. Louis' center for ragtime. Joplin, not a strong pianist by St. Louis standards, devoted himself primarily to teaching and composing. His compositions—including such classic rags as The Easy Winners, The Strenuous Life (a tribute to President Theodore Roosevelt), Elite Syncopations, and The Entertainer—attracted attention and he continued to receive praise from mainstream press. Alfred Ernst, conductor of the St. Louis Choral Symphony Society, met with Joplin and declared him to be a genius as a composer of ragtime.

Joplin's personal life prospered less well. A child born to him and Belle died in infancy, and by 1903 the two had separated. Still, he continued working, pushing the limits of ragtime by composing a ragtime opera. Evidence suggests that this audacious work—A Guest of Honor—recounted an event in 1901 that had polarized the nation: President Theodore Roosevelt's invitation to black leader Booker T. Washington for dinner at the White House. (Outraged critics complained that the gesture symbolized an unacceptable social equality between the white and black races.) Joplin formed a thirty-person opera company and scheduled a tour through sixteen Midwestern towns and cities from August through October, 1903. There may have been some preview showings, but on the opera's official opening, in Springfield, Illinois, on September 2, 1903, the company's manager—Frank W. Meiser—absconded with the funding necessary to pay for the troupe's stay at a theatrical boarding house. The costumes, music, and all of Joplin's belongings were confiscated and the show was cancelled with an audience already seated in the theater. Joplin pleaded with the boarding house owner, proposing to pay the bill during the intermission with proceeds from the box office, but the negotiation failed. The opera has never been recovered.

At the end of 1903, Joplin went to Arkansas to visit with relatives. In Little Rock he met Freddie Alexander, a 19-year-old woman, and dedicated to her his Chrysanthemum. An Afro-American Intermezzo. Though a rag, he apparently used the descriptive subtitle "Intermezzo" to indicate a work of greater refinement. In June 1904, he and Freddie married and moved to Sedalia. He had a busy concert schedule that summer, but his young wife did not attend the performances: she became ill shortly after their arrival in Sedalia. Her illness developed into pneumonia, and she died in September 1904, just short of three months after they had married.

Joplin returned to St. Louis, where his rag The Cascades had become one of the musical hits of the World's Fair, then still open. He also played piano in a band led by flutist Samuel Joseph Reed. Years later, Reed told his children about Joplin, whom he referred to as "Scottie". He described Joplin as very intelligent, well educated, and a fine piano player.

While in St. Louis, Joplin sought out various publishers as an alternative to John Stark, publishing such pieces as the syncopated waltz Bethena and Binks' Waltz. In 1905 Joplin stayed briefly in Chicago; it was at this time that he and his younger (and short-lived) colleague Louis Chauvin collaborated on Heliotrope Bouquet, a hauntingly beautiful rag that supports accounts of Chauvin's remarkable talent.

In 1907 Joplin moved permanently to New York and initially continued business with Stark (who had moved there in 1905), but then established business relationships with other publishers, most notably Seminary Music. While at Stark's office one day, he met Joseph F. Lamb, a young, white, amateur composer. The two became friends and, on Joplin's recommendation, Stark published Lamb's Sensation (1908; Joplin's name was added as "arranger" to encourage sales). The high quality and success of Sensation led Stark to publish many more Lamb rags through the next decade, and Lamb is today regarded as one of the greats of ragtime.

Joplin acquired many friends and admirers in New York and was active in the Colored Vaudeville Benevolent Association, to which he dedicated his Paragon Rag. Among his other outstanding rags from this period are Rose Leaf Rag, Fig Leaf Rag, Sugar Cane, Pine Apple Rag, and Gladiolus Rag. He revealed in interviews, though, that his main reason for moving to New York was to find backing for a grand opera then in progress: Treemonisha. Whereas only a few sections of the opera could be considered ragtime, these include its most memorable sections, numbers like "Aunt Dinah Has Blowed de Horn" and "A Real Slow Drag". The libretto, written by Joplin, tells the story of Treemonisha, a young woman from an isolated, black community. By virtue of her education, she leads her neighbors to understand that relinquishing their superstitious practices will bring a brighter future. The opera contains tantalizing autobiographical elements, recalling Joplin's childhood musical experiences, his mother, and his late wife Freddie. Though we know too little about Freddie to draw many parallels with the character Treemonisha, the opera's setting of September 1884 seems to refer to Freddie's birth. She was born in 1884, between mid-June and the first ten days of September. As nothing in the opera's drama requires a specific month and year, I suggest that Joplin chose the setting as a memorial to his wife.

Joplin tried unsuccessfully in 1910 to interest publishers in his opera, and finally published it himself in May 1911. His friends told a story of Joplin giving the score for consideration to Irving Berlin, then a rising young songwriter working for Ted Snyder Music. This is possible, since Ted Snyder Music and Seminary Music had related owners and shared the same office. Berlin, as the story goes, returned the manuscript, saying they couldn't use it. In March 1911, Berlin published his major hit song Alexander's Ragtime Band. Joplin, on hearing it, exclaimed that the song was stolen from his still-unpublished opera, and he thereupon changed the section that resembled Berlin's song. That section was the "Marching Onward" portion of the opera's closing number; even with Joplin's changes, it still bears some resemblance to the verse of Alexander's Ragtime Band. One might question the importance of this similarity—much of Berlin's success was based on the effectiveness of his lyrics—and whether Berlin consciously plagiarized Joplin's theme. But there is little doubt that Joplin believed he had been wronged.

From that point onward, Joplin devoted his energies toward getting Treemonisha produced, but succeeded only in having a single, informal performance—without orchestra or costumes—and a public performance of one number, "Frolic of the Bears." Lottie Stokes, with whom he established a new marital relationship around 1912 (they married in Jersey City on October 30, 1913), assumed the financial responsibilities of his career, and the two formed a publishing company, issuing his last rag—Magnetic Rag—and revisions of three numbers from his opera. Despite her assistance, Joplin accomplished little in his remaining years. Suffering from tertiary syphilis, he declined physically and mentally. He was hospitalized in January 1917 and succumbed to the disease on April 1, 1917.

Joplin's story does not end with his death. He said he would not be truly appreciated until twenty-five years after he had died, and his prophecy was close. Most of his rags were forgotten in the years following his death, though his Maple Leaf Rag continued to be played through the 1920s and 1930s. The 1940s—a quarter-century after his death—witnessed a new interest in his music and life, and performances and research increased at an accelerated pace through the next quarter-century. It reached its peak in the early 1970s with the New York Public Library's two-volume publication of his music, with recordings of his music released on classical labels (a development he would have appreciated), and with complete performances of Treemonisha, which eventually reached Broadway. In 1974 his music was brought to a much wider public, having formed the basis of the film score for the Academy Award winning film The Sting. Suddenly, everyone played Joplin; his music had never received such wide appreciation. Joplin rags spanned the classical-pop divide as it received performances by vast numbers in both cultural camps, and Joplin recordings reached the highest ranks in both classical and pop record sales charts. In belated recognition of his achievement, the Pulitzer Committee in 1976 voted Joplin a special award.

The frenzy of the ragtime/Joplin revival of the 1970s is long over, but Joplin is still with us. We hear his music on tv and radio commercials and jingling from ice cream vendors. More importantly, we hear Joplin's music live and recorded in a rich variety of styles and media—piano, string quartet, brass ensemble, orchestra—all exploring the potentials of this vibrant, fascinating music. Scott Joplin's music has joined the standard repertoire and the soundscape of modern life.
- - - - - - - - - - - - - - - - - -
Copyright © 2003–2019 Edward A. Berlin

- - - - - - - - - - - - - - - - - - -
Click here to view a Japanese translation by Hidaka Aoki.

Reviews of King of Ragtime, 1st edition.

King of Ragtime Table of Contents, 2nd edition, with brief discussion.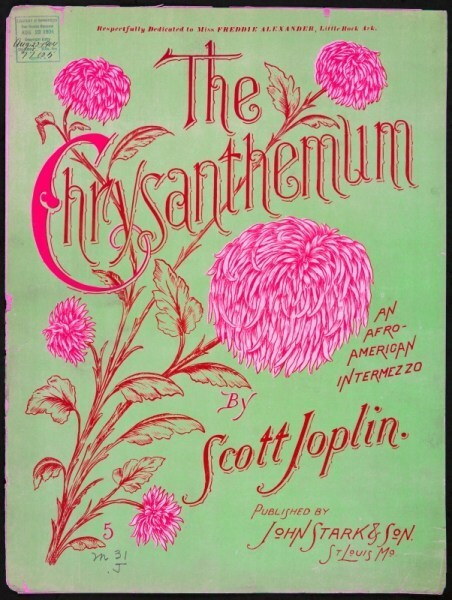 I have altered the colors as the original—light blue, yellow, and light green—render the image and text too difficult to discern. Only this first printing includes the dedication, "Respectfully Dedicated to Miss FREDDIE ALEXANDER, Little Rock, Ark"; it seems to have been removed from later printings. Joplin and Freddie married a few months after initial publication.